Our new challenge has just started over at
Crafty Monkeys
:-) For our Challenge this month we would love to see your
Love or Friendship
cards
or projects.
I created my card for a new friend. The girly stamp is by High Hopes and I have coloured with copic markers. I thought the words on the paper were perfect for this image and I like the "Girls just want to have fun" writing. The flowers and sentiment are stickers. I added some buttons to the centers of my flowers.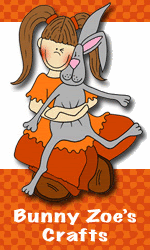 We have a cool prize too of the the below
Wags

'n

Whiskers

- Thinking of You
stamp. This features myself with my cat Gemma :-)
This has been kindly given to us by our sponsor
Bunny Zoe's Crafts
(my Mum).
We hope you will join in our challenge. Myself and Hannah look forward to visiting your blogs to see your creations :-)
Please tell all your crafty friends about our challenge!
love,